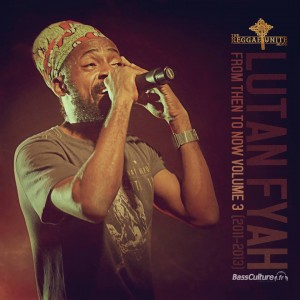 Voilà une première série bouclée. Cette mixtape vient conclure notre retour sur la carrière de Lutan Fyah sur ces 10 dernières années avec la période 2011-2013.
On vous a préparé là quelque chose d'un peu plus long que d'habitude avec 10 titres par année. Malgré tout, grâce au travail phénoménal de l'artiste il restera encore énormément de singles pour une prochaine sélection!! Mais faudra patienter un peu, d'autres projets sont sur le feu et arrivent bientôt.
Big up à Reggae-Unite Blog à l'origine de ce projet, et big up à OJ Vizion qui réalise encore une fois une superbe cover!! Comme d'hab je vous conseille d'aller voir ici sur Reggae-Unite où vous aurez tous les détail et où vous pourrez télecharger le pack.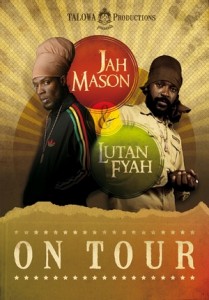 Et bien sur merci à Lutan Fyah et sa généreuse contribution pour toutes ces mixtapes, big up pour ce flot de good vibes qu'il nous délivre depuis des années. On lui souhaite tout le succès possible pour sa tournée en France, c'est en ce moment alors ne ratez pas ça!!
LUTAN FYAH + JAH MASON backed by Dub Akom Band
20.02.14 Beauvais (60) / L'Ouvre Boite
21.02.14 Montauban (82) / Le Rio Grande (only Lutan)
26.02.14 Montivilliers (49) / Gymnase Christian Gand
07.03.14 Cergy (95) / L'Observatoire
08.03.14 Annecy (74) / Le Brise Glace
13.03.14 Rouen (76) / Le Crooner
14.03.14 Gennevilliers (92) / Le Tamanoir
Playlist :
01-Fight It (Bonafide Riddim)-Akom Records.
02-Burn This A Fire (Hold U Medz Riddim)-In The Streets Records.
03-Stop (Backstabber Riddim)-Oneness Records.
04-Break I Down (Alive Riddim)-Dynasty Records.
05-Rastafari Leads The Way (Think Twince Riddim)-Warrior Musick Production.
06-Don't Make U Madda Bawl (Soul Emotion Riddim)-Troyton Music.
07-Rasta (Blue Skies Riddim)-Supa Hype Records.
08-Where I'm From (She's My Heart Riddim)-Nicko Rebel.
09-Trial & Crosses (Sweet Corn Riddim)-Pure Music.
10-No Wah Settle Down (Danger Luv Riddim)-Troyton Music.
11-Ketch a Fyah Tonite (Conquering Lion Riddim)-Chimney Records (2012).
12-Crazy World (Happy Trod Riddim)-Leaf Of Life Production (2012).
13-Respect & Manners (Raspect Riddim)-Oneness Records (2012)
14-Short Cut (Pure Heart Riddim)-AZA Yaad Muzic (2012).
15-Hold a Medz (Moving Riddim)-Di Genius (2012).
16-Stand Firm (Make It Gwan Riddim)-Flash Hits Records (2012).
17-Fruits & Roots (World Clock Riddim)-Pure Music (2012).
18-Mi Can't Sleep (Subway Riddim)-Quick Mixx Production (2012).
19-My Heritage (Addiction Reloaded Riddim)-Flava Squad (2012).
20-Hear Seh (Dreamworld Riddim)-Kalico Productions & Hot Edge Productions (2012).
21-Mi a Nuh Idiot (Soulamate Riddim)-Asha D (2013).
22-Boost No War (Shango Riddim)-149 Records (2013).
23-More Of Jah Love (Iklektik Riddim)-XTM.Nation (2013).
24-Pressure (Re-Birth Riddim)-Firehouse (2013).
25-Give Thanks & Praise (Milk & Honey Riddim)-Reggae Fever (2013).
26-Ganja Man (The Grass Root Riddim)-Bread Back Jamaica (2013).
27-Ningy Ningy (Queen Majestic Riddim)-Troyton Music (2013).
28-Brave & Bold (Bold & Brave Riddim)-Tee & Jaa Records (2013).
29-Lonesome Soldier (Honey Pot Riddim)-Silly Walks (2013).
30-She's Got Soul (Songbird Riddim)-I Grade Records (2013).