Filed Under (Mixtapes) by
zalemmm

on 13-04-2018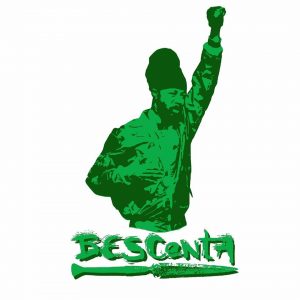 Are you ready ??? Parceque
nouvel album de Bescenta
massives !!!
Et oui mais vous suivez pas. Dès que j'ai su ça j'ai commencé à préparer une petite sélection en vue de l'évènement car les bons albums reggae se font de plus en plus rare – c'est un phénomène qui se produit à peu près tous les 10 ans maintenant (8 ans exactement depuis « Genuine » pour Bescenta), donc faut être au taquet quand ça arrive. Et c'est pas tout,
Terry Ganzie
revient lui aussi avec
On a Mission
donc fallait marquer ça.
Si les albums sont rares, les singles c'est non stop, c'est ça qui est bien dans le reggae, no time to rest, en particulier pour la sainte trinité de ma génération Sizzla/Anthony B/Capleton. Et ça fait plaisir de retrouver
Wycleff
en compagnie du Prophet, sur des sonorités dont je suis pas trop fan mais dans le contexte ça passe plutôt bien,
Sizzla
génialement véner sur
What's The Problem
et Mr Yagayow sur petit slow façon « Mr Heartless » dont lui seul à le secret et qui fait beaucoup du bien aussi.
Ce qui nous permet de faire une sélection un peu différente cette fois puisque moins axée sur des longs riddim mixes, avec des sonorités un peu hip-hop, un poil de dancehall aussi. J'en profite pour caser des trucs que j'arrivais pas à placer dans les sélections précédentes et je découvre dans des riddims moins évidents de jolies perles. A trop traquer le gros hit one-drop on passe à côté de sons plus originaux comme le Blender Special qui nous ramène à une autre époque et le très joli Significant Riddim avec Khari Kill qu'on avait plus diffusé depuis un moment.
Et en parlant de riddims pas faciles à mixer mais aux sonorités prenantes, sauf erreur je crois pas avoir fait de mix du Pilgrimage riddim, qui doit bien avoir 10 ans et qui a été réédité y'a un an ou deux: puisqu'on est sur Bescenta c'est une bonne occasion de se faire plaisir et de revenir sur un de ses premiers hits, « Pilgrim Journey ».
Bescenta – Ready (Haffi Win It)
King Mas – Can't Draw We Out (To Di East Riddim)
Warrior King – Many Mansions (To Di East Riddim)
Anthony B – Stop Fighting The Reggae
Terry Ganzie – Life (Blender Special Riddim)
Luciano – Last Dayz (Blender Special Riddim)
Everton Blender – Trying Man (Blender Special Riddim)
Amadeus – Too Lie (Blender Special Riddim)
Bescenta – Haffi Win It (Haffi Win It)
Khari Kill – Binghi Man (Significant Riddim)
Teflon – Nothing at All (Significant Riddim)
Lutan Fyah – Stick to Culture (Mighty Roots Riddim)
Perfect Giddimani – Hail Fari (Mighty Roots Riddim)
Terry Ganzie – Far From Dem (On a mission)
Capleton – Tun Up Dat
Sizzla – What's The Problem
Bescenta – Run The City (Haffi Win It)
Sophia Squire – Can't Take No More (Ain't No Chain Riddim)
Jah Mason – Ain't No Chain (Ain't No Chain Riddim)
Anthony B – Gonna Take You Home (Ain't No Chain Riddim)
Capleton – Pray Together (Strength Riddim)
Wyclef Jean – I Pray (Strength Riddim)
Lutan Fyah – This Fire (Pilgrimage Riddim)
Bescenta – Pilgrim Journey (Pilgrimage Riddim)
Bascom – Beautiful World (Pilgrimage Riddim)
Anthony B – Street Life (Pilgrimage Riddim)
Capleton, Wyclef Jean & Charlie Charley – Jah Jah City