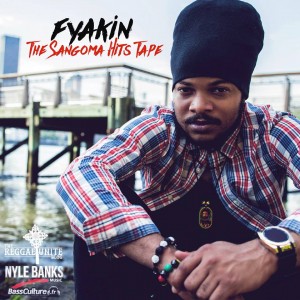 C'est avec quelques jours de retard que je vous annonce la sortie de ce nouveau projet en collaboration avec Reggae-Unite Blog, que je vous recommande de suivre sur facebook pour ne plus jamais passer à côté de quoi que ce soit!
On est heureux de vous présenter cette mixtape de Fyakin, une excellente occasion de rassembler et de mettre en valeur le travail de ce singjay qui dissémine des singles de qualités depuis des années, un travail qui n'a donné lieu qu'à un album en 2015 et que l'on a trop peu souligné sur ce blog même si on le diffuse assez souvent.
L'écoute vous convaincra qu'il est un artiste très talentueux et incontournable de la scène reggae actuelle!
La page de Reggae-unite vous en dira plus à son sujet.
Playlist :
01-Intro
02-Trumpet Sounding (Fyah Key Riddim)-Nuff-A-Dat Production-2008.
03-I Know (unreleased) 2007.
04-Change-Stampede Music-2007.
05-Every Night I Pray (Frustration Riddim)-Lion Sound-2008.
06-Free Di Rasta (The Culture Riddim)-Blue Sky Productions-2006
07-Break Free (Top Rated Riddim)-Tads Record-2009.
08-Poverty At Hand (Chant Down Babylon Riddim)-Penthouse Records-2009.
09-Work Hard (A Major Riddim)-Braeton Connection Records-2009.
10-Dem Nuh Real (Questions Riddim)-DocMac Entertainment-2010.
11-Do You (Stonehenge Riddim)-Jamplified Records-2010.
12-Hard Out Deh (Road Of Life Riddim)-Born Free Records-2010.
13-Marijuana Healing (Roots & Rights Riddim)-Jah Mikes Production-2010.
14-Oyeh No (Dream Dayz Riddim)-Young Veterans-2010.
15-Paradise (World Beat Riddim)-Subsonik/Chiney K Productions-2010.
16-These Streets (The Grind Riddim)-Liv Up Records-2010.
17-Wanting You (Give Thanks Riddim)-CashFlow Records-2010.
18-Old Vibes (The Bomboflow Riddim)-Upsetta Records-2011.
19-She's Real (City Streetz Riddim)-Twelve 9 Records/Dynasty Records-2011.
20-High High (Passover Riddim)-Jahlight Records-2011.
21-Hard Road To Travel (Pot a Cook Riddim)-Upsetta Records-2013.
22-Herbs (Barriers Riddim)-Giddimani Records-2013.
23-Journey-Nyle Banks Music-2013.
24-Love Is The Way (Mellow Mystic Riddim)-Silent Mode Entertainment-2013.
25-Mek It Bun (Come Down Again Riddim)-Weedy G Soundforce-2013.
26-Missing U (Cool Shade Riddim)-Master One Productions-2013.
27-Watchie Watchie (Sticky Riddim)-Whatage Muzic-2012.
28-Gideon Time (Lion Inna Den Riddim) -Iron Gate Sound-2014.
29-Caan Stop We (Black Woman Riddim)-International Highpower Records-2014.
30-I'm A Conquerer (Conquea Riddim)- Trainline Records-2014.