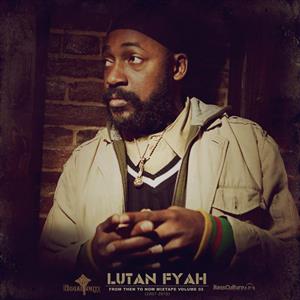 La saga continue!
Previously, in « From then to now mixtapes », avec Reggae-Unite Blog on vous présentait le projet d'une rétrospective de la carrière de Lutan Fyah, en plusieurs volumes.
Si vous avez raté le premier épisode vous pouvez l'écouter là. Cette mixtape couvrait les débuts soit la période 2000-2006. Sans spoiler je peux vous dire que c'était déjà bien red hot.
Mais encore plus bouillant voici à présent le volume 2: ici on s'attaque à la période 2007-2010 et ce n'est pas la moindre puisque c'est celle où l'artiste a vraiment déployé tout son arsenal sur tous les riddims qu'il a trouvé, enchainant sans relâche les singles jusqu'à aujourd'hui. Par ce travail phénoménal il amenait son art au sommet, prêt à rester squatter les hauteurs un long moment, living the « life of a king ».
Sur le même principe que la première tape, MaxHIM nous a préparé une sélection explosive de 20 titres pour approximativement 80 minutes de fyah.
Le package est disponible en téléchargement ici
Et checkez ça aussi sur Reggae-Unite où vous trouverez en prime les dates de la tournée de Lutan Fyah qui démarre début 2014 en France!
Big up encore une fois à Lutan Fyah, Reggae-Unite et OJ Vizion qui a réalisé l'artwork.
Playlist
01-Selassie I Within (Mighty Right Riddim)-Philadub Records (2007)
02-Fall Hard (Rastar Riddim)-Rastar Records (2007)
03-Dunce Attitude (Togetherness Riddim)-Old Capital Records (2007)
04-Hypocrits (Oneness Riddim)Oneness Records (2007)
05-Thanks & Praises (Serengeti Riddim)-Pure Music (2007)
06-Grass Roots (Bay Rock Riddim)Bay Rock Records (2007)
07-Give Thanks For Life (Dem a Run Away Riddim)-Unik Music (2008)
08-Forgivness (Uprising Riddim)-Burton Records (2009)
09-Kingston 7 to 13 (Happinness Riddim)-Fam's House Records (2009)
10-Buggu Yaga (Focus Riddim)-Raw Moon Records (2009)
11-African Be Proud (Dread In The Mountain Riddim)-Rastar Records (2009)
12-Work It Out (Strange Things Riddim)-Irie Ites (2009)
13-Not a Dollah (Serve & Protect Riddim)-Penthouse Records (2009)
14-Praise (Jaguar Riddim)-Weedy G SoundForce (2010)
15-Dem In Deh (The Light Riddim)-Whatge Records (2010)
16-Broke Loose Again (Nah Bow Down Riddim)-Reality Chant (2010)
17-I Bun Police (Billie Jean Riddim)-Irie Ites (2010)
18-Crown H.I.M (Crown H.I.M Riddim)-Dynasty Records (2010)
19-Sanctify Yourself (Dunza 2010 Riddim)-Maximum Sound (2010)
20-Come Over (Major & Minor Riddim)-Don Corleon (2010)