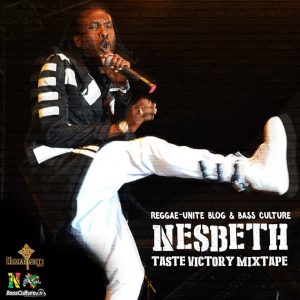 Reggae-Unite Blog, OJ Vizion, Entertainement sound production et BassCulture.fr vous présentent ce nouveau projet consacré à l'artiste Nesbeth, « Taste Victory Mixtape (2007-2014) » sur lequel nous retrouvons de nombreux extraits du EP « Taste Victory » ou encore plusieurs singles enregistrés entre 2007 et 2014 par Nesbeth pour des labels tels que « No Doubt Records , AZA Yaad Muzic , Bread Back Productions , Notnice Records , World Hits Records , Entertainment Soul »ainsi que plusieurs jingles & duplates enregistrés pour l'occasion.
Dis mixtape ah bad! je vous la recommande particulièrement pour la qualité des tunes, le flow exceptionnel de Nesbeth, ses reality tunes et ses textes très personnels ce qui est pas si courant dans le reggae vous l'aurez remarqué !
Thanks for listening on se retrouve très vite pour la bc170 qui s'annonce très violente, get ready fi dis!
Playlist :
01-Intro/Board House (Trumpet Riddim)-No Doubt Records-2007.
02-Baby Mother (Drop It Riddim)-No Doubt Records-2008.
03-Guns Out (Rub a Dub Riddim)-No Doubt Records-2008.
04-Injustice (Rocksteady Riddim)-No Doubt Records-2009.
05-Better Day (One-Two Riddim)-FM Records LLC-2009.
06-Drive By-JannBiggs Production-2009.
07-Mamma Smile (E-10 Riddim)-Sons of Spoon Music-2010.
08-No One Knows (The Light Riddim)-Whatage Muzic-2010.
09- Friend For Sale-NCF Productions-2011.
10-True Love (Steady Flow Riddim)-GT Muzik-2011.
11-Taking Over (Pure Heart Riddim)-Aza Yaad Muzic-2012.
12-Babylon Is On The Prowl (Long Life Riddim)-Bread Back Productions-2012.
13-Love Love Love (King Of Reggae Riddim)-World Hits Record-2013.
14-Someone New (Free Spirit Riddim)-Notnice Records-2013.
15-Rasta Love-House Of Hits Records-2014.
16-Ole Gangalee (Rebel Rock Riddim)-Nolanding Music / Kushface Records-2014.
17-Even Though (Victory EP)-Entertainment Soul-2014.
18-jah Jah Handpick (Victory EP)-Entertainment Soul-2014.)
19-Marijuana (Victory EP)-Entertainment Soul-2014.
20–Hundu Lay Lay (Victory EP)-Entertainment Soul-2014.
21-Taste Victory Dubplate For Taste Victory Mixtape.