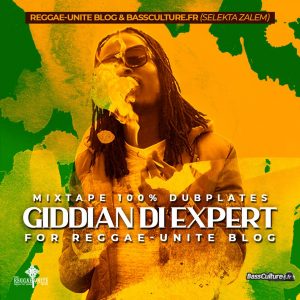 Brand new! Découvrez Giddian Di Expert : une nouvelle collaboration avec Reggae-Unite Blog : plusieurs dubplates & jingles enregistrés pour l'occasion par Giddian Di Expert ainsi que le single inédit « No Burden » extrait du projet « Methods Of Babylon Riddim : Unreleased » !!!
Recorded in Jamaïca (No Gravity Recording Studio ).
Available for free on Bandcamp !
01-Dub Till A Morning (Fade Out Dub)-Riddim by King Tubby's Music
02-Dread In A Babylon (Jah Army Riddim)-Riddim by Ghetto Youths International , Inc.
03-No Burden (Methods Of Babylon Riddim) (Unreleased)-Riddim by Reggae-Unite Records
04-High Grade Farmer (Internatinal Herb Riddim)-Riddim by Unemployment Records
05-Proud Ganja Man (Ganja Bizness Riddim)-Riddim by Selecta 7
06-Last Laugh (Taxi Riddim)-Riddim by Taxi Records
07-Love You So (Nice & Easy Riddim)-Riddim by Oneness Records
08-Sure As The Sun (Rootsman Riddim)-Riddim by Overstand Entertainment
Artwork by OJVIzion .